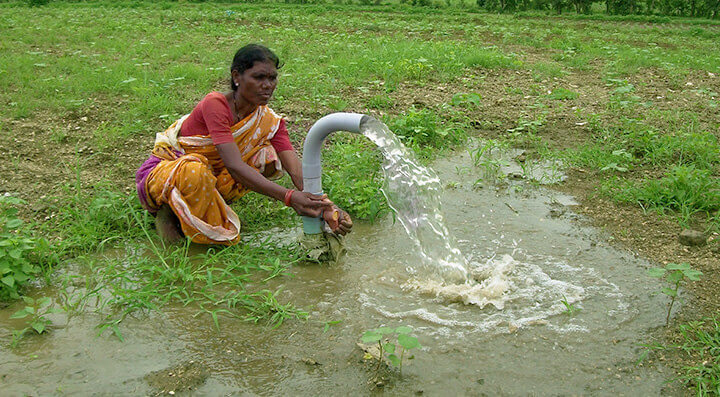 The Vidarbha region of Maharashtra has seen a spate of farmers' suicide in recent times. Hilly terrain, erratic rainfall, soil erosion, shift from mixed cropping to mono cropping, lack of irrigation facilities or credit linkages have led the largely small and marginal farmers into a cycle of debt or large scale migration. The adoption of BT Cotton has also led to an increase in expenditure without providing a similar increase in yield or returns. Dilasa works towards securing the livelihood options of these small holder farmers mainly belonging to Schedule Tribes, women and children through projects that cover watershed and irrigation development, women's empowerment, agricultural research and support networks for farmers and children.
With Axis Bank Foundation's support, Dilasa promotes the use of the innovative phad system of irrigation for soil and water conservation and management.
This method uses the topography of the land and gravity to distribute water across an area. To stabilise and improve livelihood options, Dilasa promotes the use of mixed cropping system, horticulture plantation, fodder development, animal husbandry and create provision for credit through women's Self Help Groups. The project is expected to improve the living conditions of rural poor and tribal households on a sustainable basis. The income of each targeted participant family is expected to be enhanced. The SHG bank linkage will reduce dependency of farmers on money lenders as a source of credit. These interventions will ultimately lead to food security; savings in interest out go and reduce distress migration.