Partners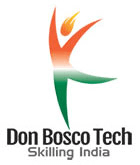 Don Bosco Tech Society
States - Assam, Bihar, Chattisgarh, Jharkhand, Jammu and Kashmir, Karnataka, Kerala, Andhra Pradesh, Madhya Pradesh, Maharastra, Manipur, Meghalaya, Mizoram, Nagaland, Odisha, Punjab, Sikkim, Tamil Nadu, Tripura, Uttar Pradesh, West Bengal
Districts - East Godavari, Khammam, Kurnool, Prakasam, Visakhapatnam, Golaghat, Kamrup, Lakhimpur, Tinsukia, Buxar, Jehanabad, Khagaria, Kaimur, Munger, Muzaffarpur, Patna, Purnia, Bastar, Bilaspur, Chattisgarh, Dantewada, Durg, Jashpur, Kanker, Raipur, Dumka, East Singhbhum, Khunti, Ranchi, Gooda, West Singhbhum, Bellary, Bengaluru Urban, Yadgir, Alappuzha, Kannur, Kollam, Thiruvananthapuram, Bhopal, Gwalior, Jabalpur, Indore, Jaisinagar, Khandwa, Katni, Mandla, Sagar, Vidisha, Palghar, Raigad, Senapati, East Garo Hills, East Khasi Hills, Jaintia Hill, South - West Garo Hills, North Garo Hills, Ri-Bhoi, West Garo Hills, Aizwal, Mamit, Dimapur, Wokha, Balasore, Bhadrak, Kendrapara, Khordha, Muniguda, Mayurbhanj, Phulabni, Sambalpur, Sonepur, Sundergarh, Gurdaspur, Fazilka, Ludhiana, Jalandhar, Mohali district, Patiala, East Sikkim, South Sikkim, Namchi, Chennai, Kanchipuram, Krishnagiri, Madurai, Tiruvannamalai, Vellore, Shipahijala, West Tripura, Allahabad, Ballia, Gorakhpur, Varanasi, Jhansi, Lalitpur, Lucknow, Mauranipur, Amod, Bharuch / Surat, Kheda, Budgam, Kupwara, Leh, Poonch, Alipurduar, Bankura, Bardhaman, Birbhum, Darjeeling, Hooghly, Howrah, Jalpaiguri, Kolkata, Nadia, North 24 Parganas, Murshidabad, South Dinaspur, Paschim Medinipur, Purulia, South 24 Parganas, Uttar Dinajpur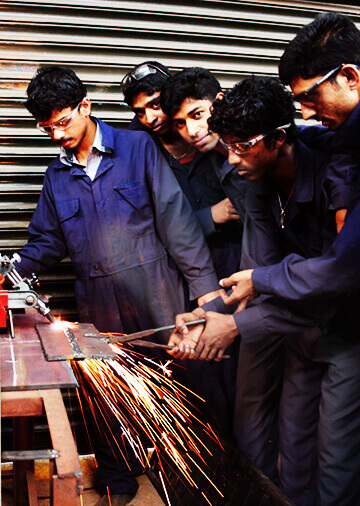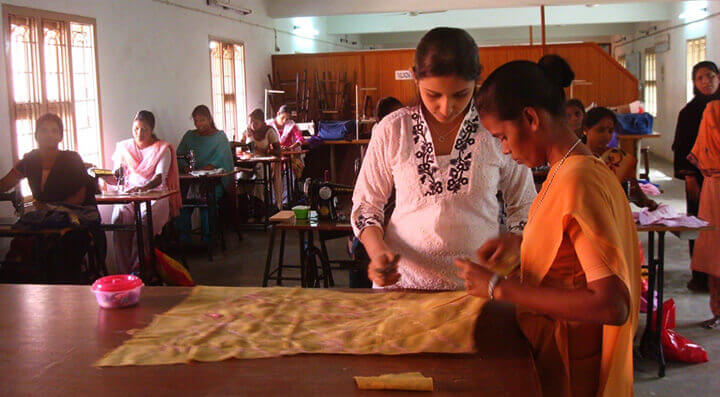 Despite high economic growth, there is an ever increasing gap between those who have access to opportunities and those who are getting increasingly marginalized in this market driven economy due to the lack of skills and opportunities. Don Bosco Tech Society, the Indian arm of Don Bosco attempts to bridge this gap and give the unemployed youth from the economically poor backgrounds, adequate skills to get a foothold in the job market.
Through Axis Bank Foundation's support, vocational trainings and short duration courses are provided in Hospitality Services, Sales and Marketing, Nursing Care, Hardware and Networking, Electrical, Welding, Multi Skilled Technician, Construction etc. with the objective of providing the youth with job opportunities in the technical and service sector.
The BASE Model (BOSCO Academy for Skills and Employment) is an integrated employment oriented training project which takes into account the increasing demand for skilled manpower in the manufacturing and service sector. The main objective of the project is to provide employable skills to school dropouts, existing workers, IT graduates and underprivileged youth etc. Existing skills of the persons are tested and certified under the project by ensuring that all courses and content has a minimum assessment and accreditation. DB Tech has knowledge tie ups with corporates like Godrej, DLF, Taj, Wellspun and ITC who provide content and training to trainers and enhance the course curriculum. Students are helped with placements in their choice of sectors. A toll free number is also set up to cater to grievances of the candidates post placement.