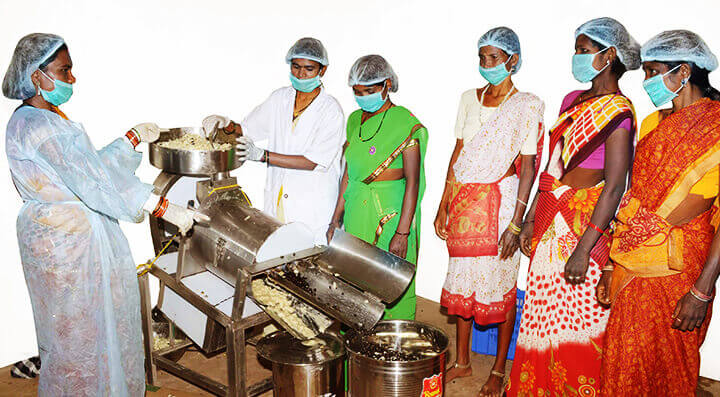 SRIJAN works in the tribal region of Madhya Pradesh and water deficient regions of Rajasthan, Chhattisgarh, Madhya Pradesh and Karnataka with a special focus on women, Dalits and tribals. These regions not only lack natural resources but also have social hierarchies which stop the poor from accessing common properties and other entitlements. SRIJAN believes in promoting self - reliance through grassroot action projects aimed at enhancing livelihood, SHG Federations, natural resource management and advocate for pro-poor policies.
In partnership with SRIJAN, Bharat Rural Livelihoods Foundation (BRLF), Sir Ratan Tata Trust, Sir Dorabjee Tata Trust, Bunge and the Government of Rajasthan, ABF aims to promote the formation of Cooperatives and SHGs, enhance food security by increasing farm productivity of staple crops, livelihood promotion through agriculture, dairy and horticulture.
SRIJAN works on the principle of strengthening Self Help Groups on various techniques and parameters. These SHGs are linked to banks, Primary Agricultural Cooperative Societies and other financial institutions. Communities are also made aware of various schemes under national and state government which they can access such as MGNREGA, Public Distribution System, Janani Suraksha Yojana, National Horticulture Program, National Rural Livelihood Mission etc. Training is given to farmers on organic farming and SRI method for growing paddy. Vegetable and fruit farming is encouraged to increase the income of the families. Under the Livestock Enhancement Program, each family with two milch animals are included and Pashu Sakhis or women para-vets are trained to treat livestock.