Board of Trustees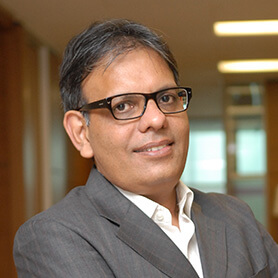 Mr. Rajesh Dahiya
Trustee, Axis Bank Foundation
Since 2015
Mr. Rajesh Kumar Dahiya, Executive Director – Axis Bank Ltd, is an Engineer with a Masters in Human Resources Management.
Rajesh began his career in 1990 with Rallis India Limited, one of the Tata Group companies and went on to handle various responsibilities in the company in Human Resources, Manufacturing Supply Chain Management, Institutional Sales, and Exports areas. In 2004, he moved within the Tata Group to Tata Sons Ltd. as Vice President, Group Talent Acquisition and Head — Tata Administrative Services.
Before joining Axis Bank, he was associated with Tata Beverages Ltd. with the responsibility to integrate various businesses under a common supply chain.
He is responsible for Compliance, Corporate Communication, Company Secretary, Human Resource Management and Administration at Axis Bank.
Rajesh has lived in various parts of the country and now a Mumbaikar living with his wife and two daughters. He devotes his free time to road travels, poetry, music and cityscape photography.