Board of Trustees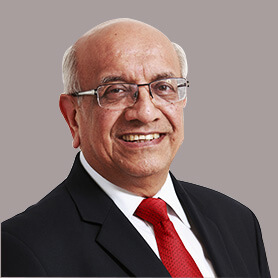 Mr. Som Mittal
Trustee, Axis Bank Foundation
Since 2015
Mr. Som Mittal is the former Chairman and President of NASSCOM, the premier trade body for the IT-BPM Industry in India. He held the position of President, NASSCOM from 2008-13 and steered the industry through one of its most challenging phases. Under his leadership, the industry crossed the USD 100 billion milestone and significantly expanded its value offerings.
Som Mital has held corporate leadership roles in the IT industry at companies such as Wipro, Digital, Compaq and HP. He also has extensive experience in the engineering, manufacturing and automotive industries, having held executive roles with Larsen & Toubro, Escorts and Denso. He has held several global positions and managed business across geographies.
Som Mittal has worked with a wide range of organizations. He served as a member of the Indian Prime Minister's Committee on National e-Governance, as board member Institutes of Technology and the Global Advisory Council of the WITSA. He is a frequent speaker at International and National conferences and is currently on several Boards and associated with several NGOs.
He is on the Governing Board of several educational and social organizations. He is also a member of Board of Directors/Advisory councils of Axis Bank, EXL Service Holdings, Inc., Cyient Ltd, NIIT Univ and IIT,Indore among others. He now advises companies, CEOs and senior leaders on growing business particularly on developing economies and in co-creating policies with Govts. He is an Advisor to foreign Govts like New Zealand.
He holds a B.Tech from IIT Kanpur and an MBA from IIM Ahmedabad.
For his contributions to the industry in India and globally as well as to society, he has received recognitions including Distinguished Alumni of IITK and Lifetime achievement award by World Information Technology and Services Alliance (WITSA) for outstanding dedication to the growth of the Global ICT industry and Leadership.